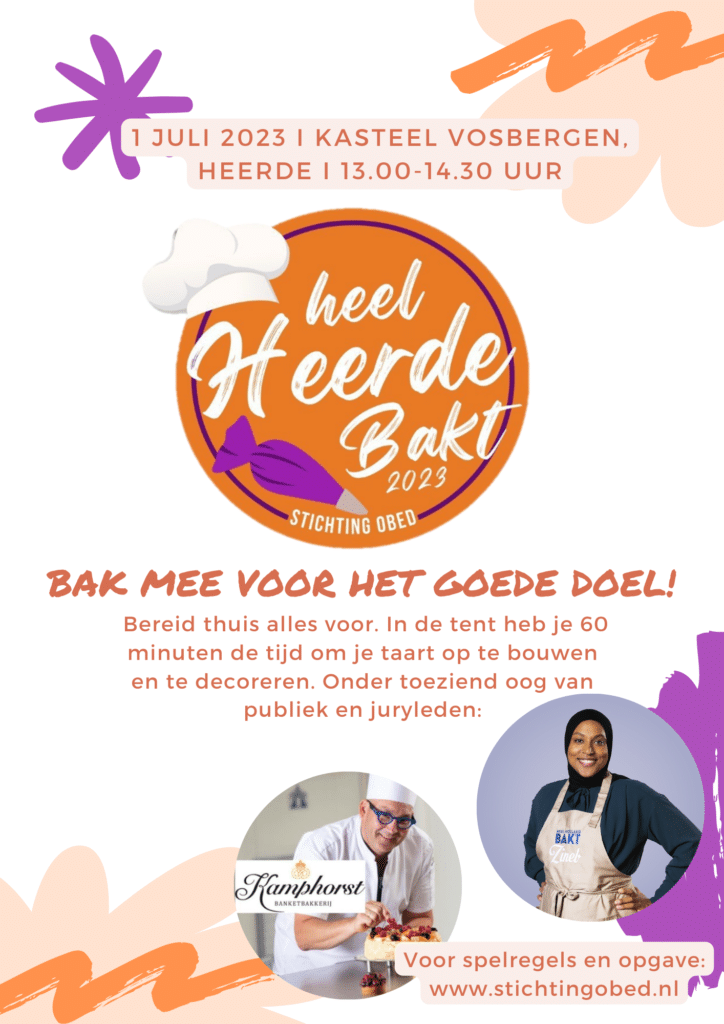 A tent, a castle and cakes! Join this unique baking competition for charity.
Saturday, July 1, 2023 – Start: 1:00 PM
Jury: Herco Veldhuizen (Banquet bakery Kamphorst) and Zineb El Moudden (Finalist Heel Holland Bakt
Game rules:
Participation from 16 years
Registration fee: €15 (100% for the Obed Foundation)
You prepare all parts of your cake prior to the competition. When the competition starts, you will have 60 minutes to assemble and decorate your cake. You must bring all the ingredients and materials (tools) needed for this yourself. Think about how you will present the cake to the jury (etagère, bowl, shelf, etc.). In the tent you only have a workbench and a shared electric stove at your disposal.
The jury tastes your cake and awards points on the following components: creativity, care, techniques, flavours/textures and use of natural ingredients.
The participant with the highest number of points wins Heel Heerde Bakt.
The winner receives the title 'Winnaar Heel Heerde Bakt' and wins a chocolate trophy, designed by the Kamphorst bakery.
Limited participation places: maximum 15 places available. If there are more registrations, a lottery will be held to select participants.
Each participant receives their own apron with print (Logo Heel Heerde Bakt).
During Heel Heerde Bakt, photos are taken for publicity purposes.
Your cake will be sold per slice on a tasting table afterwards. The proceeds are for charity: Obed Foundation.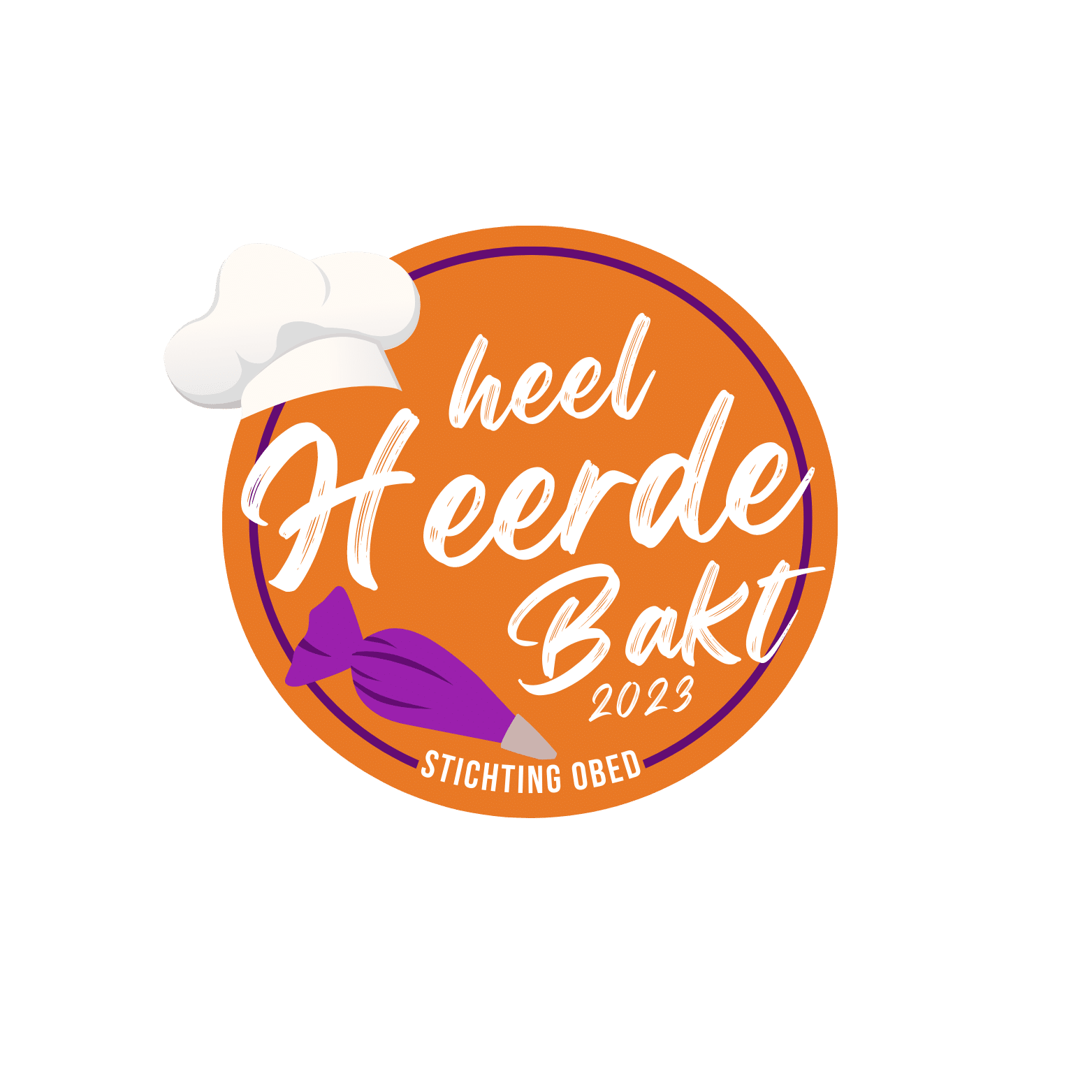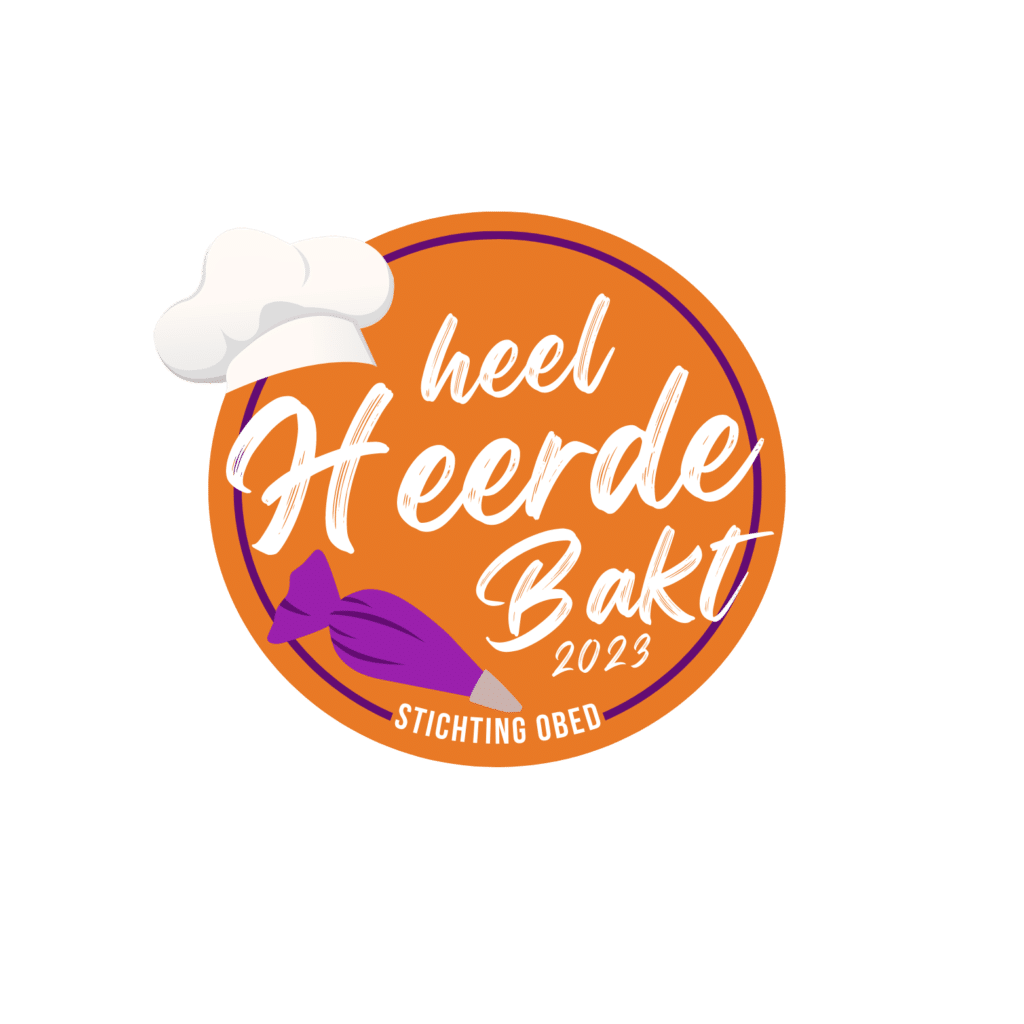 The jury sets the following requirements:
Your cake fits within the theme: castles;
Your cake is alcohol-free;
Your cake has a diameter of 24 cm;
Your cake is for a minimum of 10 people;
Your cake shows your creativity and passion for baking.
Still unsure? Feel free to join. A whole Holland Bakt experience, but for a good cause.
Sign up quickly by filling in the contact form (closing date 23 June)!
Yes, I'm participating: